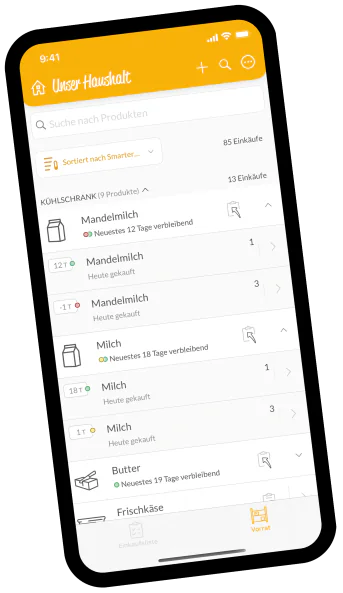 Clear food inventory
HNGRY: How to organise and store
your groceries properly.
Sound familiar? You're back home after the weekly shop, and now you really want to get all the items you've just bought put away as quickly as possible. The food is normally stored where there's space. You've probably thought this wasn't the best approach. Your food won't stay fresh for as long, and you also won't be able to see all the items you have in stock or their shelf life. The result is food waste which is easy to avoid.
Because, as well as the shopping list function, HNGRY also assists you with your pantry. You can finally stop wasting food!
This is why you
will love the storage section
No groceries get forgotten about
You can check what you still have in stock at home at any time and from anywhere.
Throw away less food
Keep an eye on the shelf life of your products at all times.
Learn to store your groceries properly
HNGRY tells you the best place to store your products so they stay fresh for longer.
Stockpiling with no effort
You can check what you still have in stock at any time and from anywhere.
Once again you find yourself in the supermarket utterly overwhelmed by the choice on offer, and you have no idea what you already have at home in the refrigerator, freezer or pantry. HNGRY means that you always have your pantry with you in digital form. Create your own personal inventory with the storage options that you have at home. Here you can see all your products - ranging from your refrigerator and your freezer in the basement to your household pantry where you can easily lose track of what you have.
Learn to store your groceries properly
See where you should best store your products.
How often do you ask yourself whether or not a certain type of food should be kept in the refrigerator? You no longer need to because HNGRY recommends the optimum storage location for your food. This ensures that vegetables etc. stay fresh and tasty.
Shelf life check made easy
Check the shelf life of your groceries from anywhere at any time.
Are you considering what you should cook today? Our tip: Check your inventory for what is about to expire so as to avoid wasting any food. The traffic light colours tell you how long your groceries will last for and which products you should consume in the next few days or have already been in the freezer compartment for quite some time. This will give you a sense of the shelf life of your groceries so you can also learn for next time!
With xtraHNGRY
Goodbye, food waste!
View products that are due to expire next right at the top of your food inventory.
The bread is stale, the yoghurt in the refrigerator has passed its expiration date again. Ultimately, both will end up as waste. But there is no need for this: With xtraHNGRY a clever filter means you can always see which of your products are about to expire and thus save them from ending up in the bin just in the nick of time.
With xtraHNGRY
Shop consciously, waste less
Only display the products that you think you are about to run out of and will need again.
We've all been there, haven't we? You're out shopping but you can't remember whether you might still have certain foodstuffs at home. With xtraHNGRY this will never happen to you again. Here you can display only the products that you think you have run out of at home and so definitely need to buy again. This means you won't buy any food twice or forget to buy something – very practical!
With xtraHNGRY
Store as you wish
Move products to the storage location you want
Are your bananas already overripe but you don't currently have any time to make use of them? This is no reason to throw them away! Freeze them and change their storage location to the freezer compartment. Also practical if you want to store your products somewhere other than the suggested place.
With xtraHNGRY
Groceries past their best are a thing of the past
Define specific expiration dates for your products.
Whether it is meat, frozen food or even medicine - not everything lasts forever. Fortunately, xtraHNGRY allows you to assign specific expiration dates to your products. This guarantees you will no longer forget about any groceries that would otherwise end up in the bin.
With xtraHNGRY
Faster than a pen and paper
You can add as many products as you want that are about to run out back on to your shopping list with just one click.
No time to devote to planning your shopping? Not a problem! There is no need because with xtraHNGRY you can place products back on your shopping list from storage with just one click. This means your shopping list is always up-to-date – without any extra effort from you.
Groceries past their best are a thing of the past with xtraHNGRY
xtraHNGRY - your upgrade for inventory management: As well as the free functions of the shopping list, the xtraHNGRY subscription in the storage section offers lots of other useful functions that make it even easier for you to manage your groceries.
Finally put an end to food waste in your household! With xtraHNGRY you can always see what groceries you have and save them from the bin thanks to the advanced functions in the storage section. The best thing about it is the first 30 days are completely free. Then you pay from €2.50 a month. You can activate your trial month directly in the app and benefit from these many features:
| | Always free of charge | 30 days free of charge |
| --- | --- | --- |
| All shopping list functions | | |
| See the products you have bought in storage | some products | all products |
| Get tips on where best to store your products and for how long | for some products | for all products |
| Sort your inventory by expiration date | | |
| Set your own expiration date | | |
| Change the storage location | | |
| Search for specific products in storage | | |
| Add products to your inventory manually | | |
| Transfer products directly from storage back to the shopping list | 5 products | as many as you want |
Get xtraHNGRY and start your free trial month directly in the app in the storage section!
Download now for free and throw away less food!
This might also interest you

Intelligent shopping list
How to plan your shopping today: Are you familiar with our smart HNGRY shopping list? It allows you to plan your next shop in no time, guaranteeing you'll never forget anything again. You can see exactly why from our intelligent functions that the list offers you.

Do you have questions for us?
Do you have general questions about HNGRY or queries about your account, how to use the shopping list or storage, or xtraHNGRY? You will find the answers in our frequently asked questions.