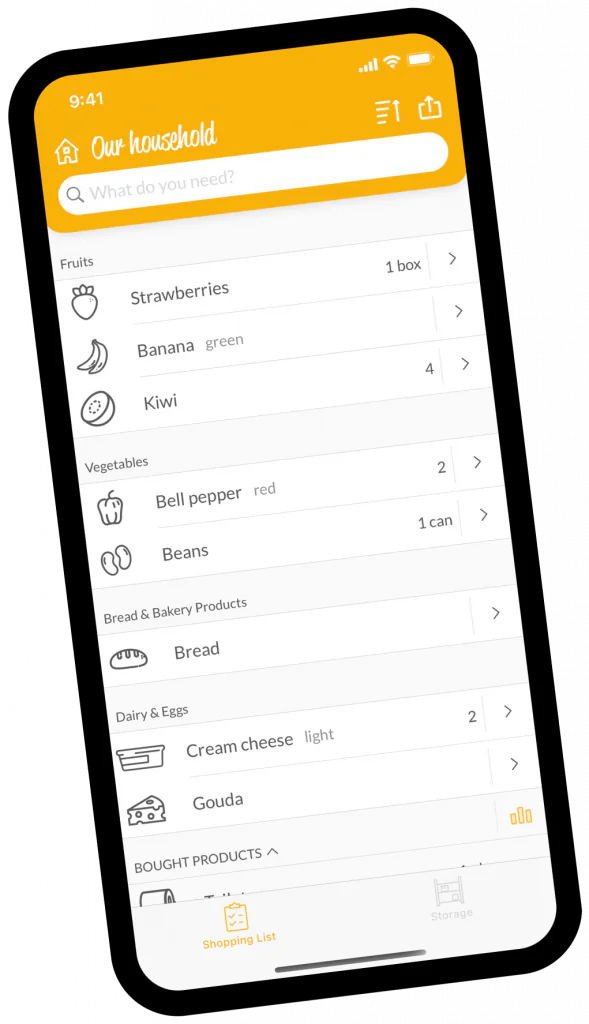 Shopping lists app
Your smart everyday assistant!
Organise your shopping easier than ever with the shopping lists app
What do I have to buy? How many of these do we still have at home? With the HNGRY shopping lists app, these uncertainties when shopping are no longer a problem. You can use it to plan your next shopping trip in no time at all. No more paper slips that are often either difficult to read or forgotten at home. Buying things twice and unnecessary purchases that later end up in the rubbish are also a thing of the past with the shopping list app. Welcome to the 21st century!
With the digital and uncomplicated HNGRY shopping lists app, you can plan your purchases in a more structured, efficient and also more conscious way than before. A lot is demanded of us these days, so any help in everyday life is welcome. HNGRY turns going to the supermarket from a stress factor into a walk in the park. This not only makes a visit to the supermarket much more fun – the shopping lists app also enables you to act more sustainably and thereby supports a conscious and healthy diet.
That is why you will love our simple shopping list
Never forget the shopping list at home again
With HNGRY you always have your shopping list with you as an app.
Quicker than pen and paper
Plan your shopping faster than ever with smart shopping suggestions from the smart shopping lists app.
No more wasting time in the supermarket
HNGRY structures your shopping list by category in the supermarket.
No more chaotic voting in group chats
With the help of the joint shopping lists app, you can share your list with other members.
No more buying the wrong things or double of them
Thanks to push notifications, you will be coordinated at all times and always up-to-date.
Never forget anything again
HNGRY gets to know you better over time and suggests what is missing from your shopping list.
Simple, modern & intuitive
Shopping is fun with the shopping lists app!
May we present: the features of our shopping lists app

Quicker than pen and paper
Plan your shopping in no time at all thanks to smart shopping suggestions.
With the intelligent search function alone, you can add the product you are looking for to your list in a matter of seconds. What's more, the HNGRY shopping lists app gets to know you and your shopping behaviour better over time and even suggests what is still missing from your shopping list. With just one click on the correct purchase suggestion, the product lands directly on the shopping list. Thanks to HNGRY, you are spared tedious manual typing and are guaranteed not to forget anything.
All your wishes at a glance
Add pictures, notes and quantities to your products in the shopping lists app.
For those who love detail: everyone has their favourites among the variety of products in our supermarkets. With the help of stored photos and the practical note function, the other list members also know exactly which product and how much of it they should buy for you. In this way, no details will be lost and every preference is fulfilled.

Joint shopping list app
Share your list with flatmates, family, partner or friends.
Joint shopping lists: Do you live in a flat share, would you like to simplify the shopping planning with your family or do you like to plan cooking evenings with friends? Then easily share and edit the app's shopping lists. In this way, you will always be well coordinated and avoid buying things twice.
Always up to date
Receive helpful push notifications when the list changes.
Your partner is already in the supermarket to do your weekly shopping, but you suddenly remember things that you urgently need? Such last-minute ideas are no problem at all thanks to real-time push notifications from the HNGRY shopping lists app. You will also be notified as soon as the shopping has been completed – what could be better?

Shopping list by category
Sort your list by category
Are you tired of walking down the aisles while shopping and wasting time in the supermarket? The solution: HNGRY automatically structures the products in your app's shopping list according to supermarket categories. You can easily sort the order of the categories according to the arrangement in your favourite supermarket and thereby avoid confusing running back and forth when shopping – how about that for practical?
The shopping list app: always available
Access your shopping lists app offline too.
Is there poor or no reception in some supermarkets or do you simply not want to be reachable? Fortunately, your shopping list is also available offline: use it anytime, anywhere and work through the list in no time by simply tapping on the products.

More than just a shopping list

Purchased products are automatically added to your storage.
Do you sometimes ask yourself which food you still have in storage at home, how long it stays fresh or where is the best place to store the products you bought after shopping? You can find the answer in the HNGRY food storage section. With the intelligent linking of shopping list and food storage, you always keep an eye on your stored groceries.
Know what's in your fridge – always and from everywhere
Quickly going grocery shopping after work or university, but again so spontaneously that you've forgotten what you still have in the fridge? No problem with the HNGRYnsite fridge camera! With the current picture of your fridge inventory in the HNGRY app, you can always check what's in your fridge and what you still need. Bye, bye double and unnecessary purchases!😉

HNGRY shopping lists app
Download it now for free and plan your first shopping trip!
HNGRY is more than just a shopping lists app


Simple food storage overview
No more food waste: Did you know that HNGRY offers you a practical storage aid in addition to the smart shopping list? Optimise your groceries inventory management and check out all the features that are waiting for you in the food storage area.


Do you have any questions for us?
Do you have general questions about HNGRY or enquiries about your account, using the shopping list, food storage aid or xtraHNGRY? You can find the answers in our frequently asked questions.