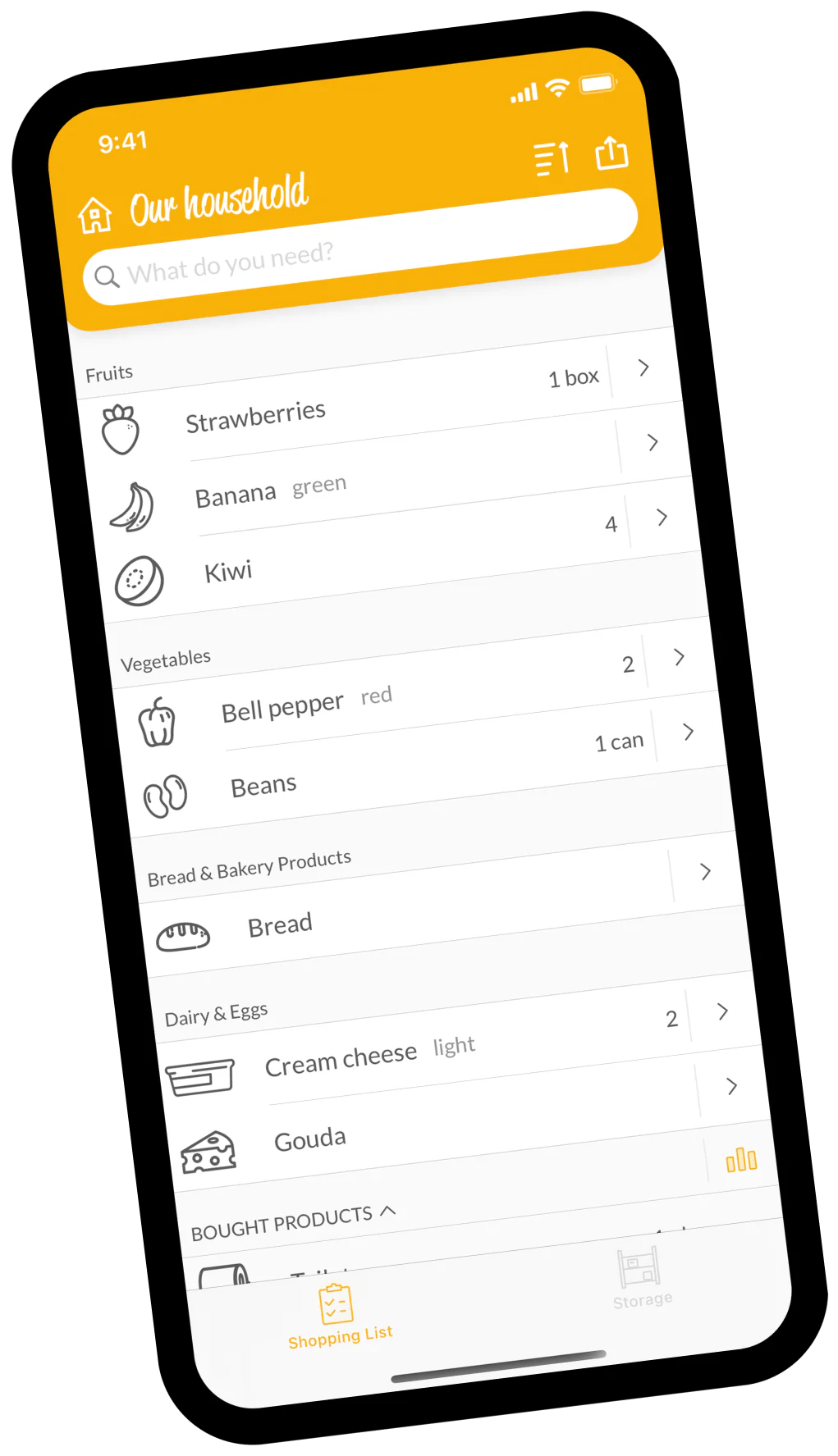 Intelligent
shopping list
The easiest way to organise your shopping
Do you still plan your shops using a paper list that you then leave at home when you go shopping? Or do you constantly buy too many or duplicate groceries that then end up in the bin because you do not consume them in time or even forget about them? Time to put a stop to this!
With the digital, uncomplicated HNGRY shopping list, you can plan your shops in a more structured, efficient and conscious way than before. This not only makes the trip to the supermarket much more fun, but the app also allows you to make more sustainable choices and helps you to embrace a consciously healthier diet.
This is why you
will love the shopping lists
Never leave the shopping list at home again
HNGRY means that you always have your shopping list with you.
Faster than a pen and paper
Plan your shop faster than ever before thanks to clever shopping suggestions.
Stop wasting time in the supermarket
HNGRY arranges your products by supermarket categories.
No more chaotic discussions in group chats
Share your list with other members.
Stop duplicating purchases or buying the wrong things
Push notifications ensure you are coordinated at all times and always up to date.
Never forget anything again
HNGRY learns more about you as time goes on and suggests what you might want to add to your shopping list.
Simple, modern & intuitive
The fun way to shop!
May we introduce: Our shopping list features
Faster than a pen and paper
Plan your shop faster than ever before thanks to clever shopping suggestions.
The intelligent search function allows you to add the product you are searching for to your list in seconds. Even better: HNGRY learns more about you and your shopping habits as time goes on and even suggests what you might want to add to your shopping list. All you have to do is click on the right shopping suggestion and the product will be added directly to the shopping list. This saves you the bother of typing in words manually and you will never forget any items again.
Everything you want at a glance
Add pictures, notes and quantities to your products.
For those who pay attention to detail: Everyone has their favourites among the wide range of products in our supermarkets. By providing photos and using the practical note function, the other members with access to the list will also know exactly which product and how much of it they should buy for you. This ensures no details are lost and every taste is catered for.
Avoid duplicate purchases through better coordination
Share your list with your flatmates, family, partner or friends.
Joint shopping lists: Do you live in shared accommodation, want to make planning your shopping with your family easier, or like to plan having dinner with friends? Then simply utilise and work through your shopping lists together. You will then be perfectly coordinated at all times.
Always up to date
Receive helpful push notifications when changes are made to the list.
Is your partner already in the supermarket doing your weekly shop, but you have just suddenly remembered a few items that you urgently need? Last-minute changes like this are not a problem thanks to the real-time push notifications. You will also be notified as soon as the purchase has been made - what could be better?
No more traipsing back and forth in the supermarket
Sort your list by category
Are you fed up with aimlessly wandering through the aisles when shopping and wasting time in the supermarket when you do not need to? The solution: HNGRY automatically arranges the products on your shopping list by supermarket categories. You can easily arrange the order of the categories based on the order in your favourite supermarket and thus avoid traipsing back and forth when you go shopping - very practical!
Always available
You can also access your shopping list offline.
Do you find some supermarkets offer poor or even no reception or do you just want to be able to switch off? Fortunately, your shopping list is also available offline: You can access it from anywhere at any time and work through the list very quickly by simply tapping on the products.
More than just a shopping list
Purchased products are automatically moved to your storage section.
Do you sometimes ask yourself what food you still have in stock at home, how long it will last for or where the best place is to store the products you have bought after you have been shopping? You will find the answers in the storage section of HNGRY. The intelligent link between the shopping list and storage means you can always see what food you have.
Download now for free and organise your household better!
This might also interest you

Clear food inventory
No more food waste: Did you know that as well as providing the smart shopping list HNGRY also offers you practical help with your pantry? Manage your inventory better and check out all the features you will find in the storage section.

Do you have questions for us?
Do you have general questions about HNGRY or queries about your account, how to use the shopping list or storage, or xtraHNGRY? You will find the answers in our frequently asked questions.